AlgoTrader today launched its flagship product WIRESWARM enabling banks easy and secure access to crypto and digital assets.
Zurich – Banks and other financial institutions are now able to gain easy and cost-effective access to the most liquid and regulated crypto trading venues at the lowest trading fees. Today, AlgoTrader has launched a platform that does just that by allowing banks to gain simple yet secure access to crypto exchanges, market-makers and brokers in order to achieve best-price execution for their clients.
WIRESWARM already provides this mission-critical trading infrastructure to one of the first two regulated digital asset banks globally.
Swiss-based AlgoTrader AG recently completed a series A investment round from institutional growth investors totalling CHF 3.7 million led by a global tier 1 bank. With the confidence of its investors, AlgoTrader AG`s standing in the field of digital and tokenized assets was further cemented with the launch of WIRESWARM.
"We have been working on WIRESWARM since 2017 and are proud of having already acquired a number of institutional clients who are using the WIRESWARM infrastructure as part of their core banking technology infrastructure. Our secure WIRESWARM platform has helped our institutional clients master the recent market volatility with confidence" concludes Andy Flury, Founder and CEO at AlgoTrader AG.
WIRESWARM is a digital asset and cryptocurrency trading and execution platform. It allows banks and other financial institutions to maintain a single yet secure connection to major digital asset liquidity providers such as exchanges, brokers, OTC desks and market makers. Using WIRESWARM, a bank can choose the optimal trading counterparties to ensure best price execution thereby fulfilling regulatory requirements.
WIRESWARM's interface and user-friendly digital asset trading infrastructure allow financial institutions to seamlessly integrate the platform into existing core banking and trading infrastructure. By delivering a comprehensive feature set along with the mission-critical robustness and support that institutions demand, WIRESWARM is the one-stop-shop solution for any organization seeking to offer a secure, flexible, fast and efficient digital asset trading or portfolio management service.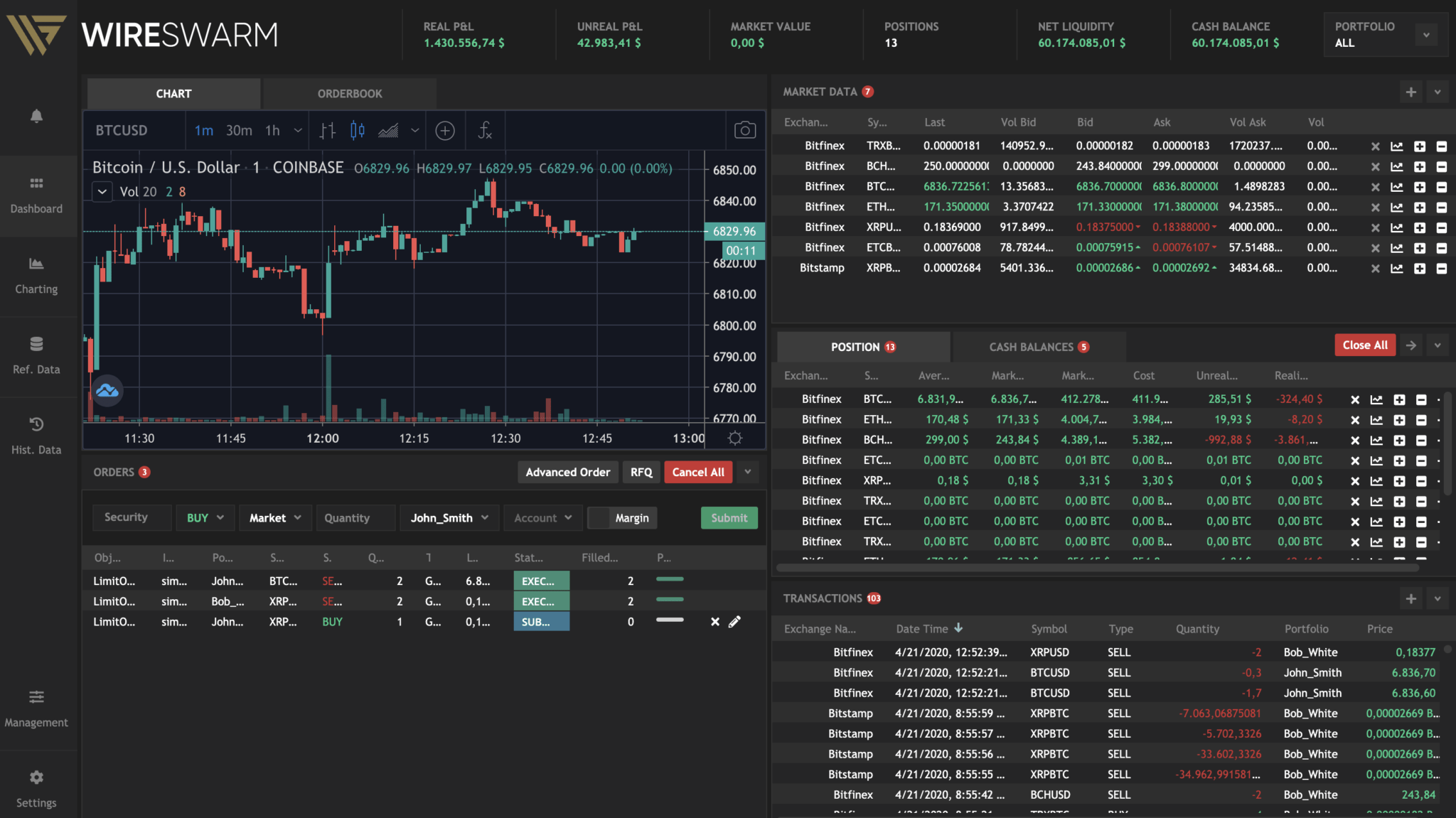 WIRESWARM is led by an influential group of people from the fintech and digital asset industry, including the Executive Board Member from Microsoft Switzerland, Roger Altorfer, "We see digital and tokenized assets as a transformative force that will drive a paradigm shift in the financial industry, and we are excited to be at the forefront of that change. WIRESWARM is giving financial institutions the right tools to navigate the digital asset trading landscape with ease."
About AlgoTrader
AlgoTrader is the global leader in institutional trading technology for digital assets that covers the entire trade lifecycle from pre-trade risk checks to order generation, automated settlement and custody reconciliation – offering best-in-class infrastructure for financial institutions. By supporting direct market access, seamless custody and core banking integration as well as full trade lifecycle automation, the AlgoTrader platform streamlines digital assets trading. Developed by a team of trading system veterans and crypto asset experts, AlgoTrader offers integrated infrastructure solutions that meet the highest institutional needs. To learn more, visit www.algotrader.com.
For media inquiries contact media@algotrader.com.