GTS Digital partners with Wyden, a leading provider of institutional digital asset trading technology, and Ideal, a decision intelligence firm that optimizes trading performance and reduces risks. For GTS Digital, this collaboration enables optimized liquidity management as well as enhanced order routing and trade execution – even under the most volatile market conditions.
The Business Problem
Quantitative digital asset trading firm GTS Digital requires deep liquidity and sophisticated execution, thus demanding reliable and performant trading infrastructure to deploy its portfolio of complex algo trading strategies across multiple trading venues. In addition, GTS Digital operates several strategies, requiring a feature-rich portfolio management system. Since digital asset markets are constantly evolving, one of GTS Digital's core objectives is to continuously improve order routing and trade execution performance.
The Solution
GTS Digital utilizes Wyden's trading infrastructure to rapidly develop, back-test, optimize and deploy their quant strategies into production. Using Wyden's portfolio & OEMS platform, GTS Digital deploys its trading strategies using smart execution algorithms, to optimize for best execution.
In combination with implementing the robust Wyden trading infrastructure, GTS Digital integrated Ideal's liquidity management analytics and Algo TCA (Transaction Cost Analysis) for spot and futures. These analytics quantify market impact and identify factors which can improve trading profits – offering further optimization beyond simple analytics or TCA. At its core, this infrastructure has enabled the creation of a continuous feedback loop that allows GTS Digital to assess the actual ex-post performance against original input assumptions which allows for further fine-tuning to drive more optimal results for future trades.
Real-time feedback loop
GTS Digital develops and deploys proprietary strategies using Wyden's quantitative infrastructure, hierarchical portfolio management, and smart order execution algos across all key liquidity venues.
Ideal quantifies execution quality by algo, venue, symbol, volatility, etc. providing actionable insights to improve fill rates, slippage, and transaction costs.
GTS Digital uses Ideal's feedback to optimize Wyden's execution algo parameters, which are then implemented back into step 1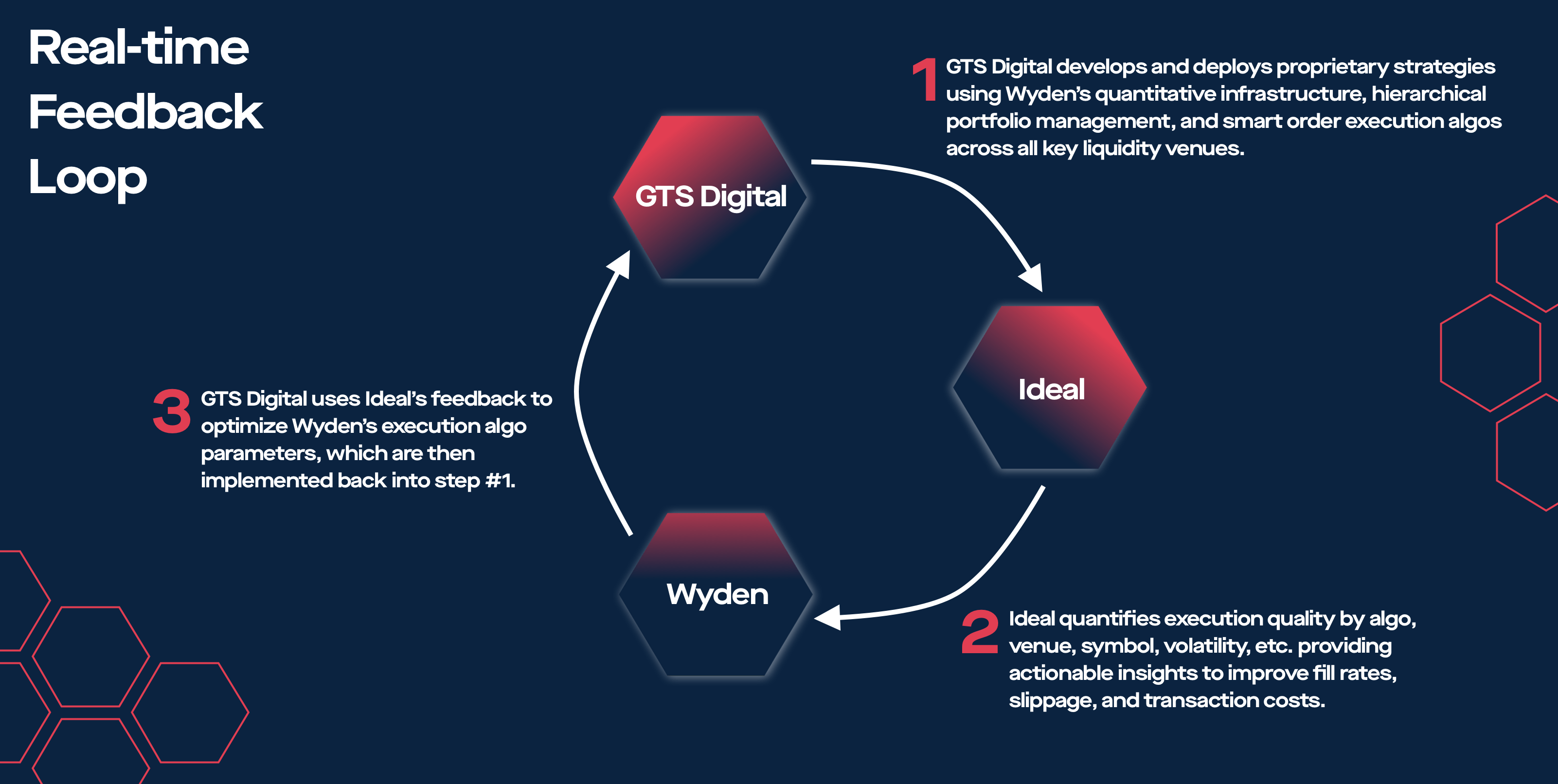 GTS Digital CEO Ryan Sheftel noted: "Upon successfully deploying Wyden's trading infrastructure, we integrated Ideal's analytics and TCA solution. This empowered us to generate a continuous real-time feedback loop, resulting in significant improvements to our order routing, market impact, transaction costs, execution quality and profitability."
Benefits Realized
By utilizing Wyden's pre-trade risk management, smart order router and execution algorithms, GTS Digital improved its transaction cost management and market impact – resulting in a meaningful positive impact on the business.
Ryan Sheftel added, "GTS Digital, Wyden, and Ideal created a data-driven feedback loop to continuously improve trading execution performance in dynamic markets".
GTS Digital is a digital asset quant trading firm and deploys sophisticated algorithmic strategies.
Wyden's OEMS platform seamlessly integrates and covers the entire digital asset trade lifecycle, from order generation to automated custody and settlement workflows.
Ideal is the only analytics firm that offers liquidity management in crypto spot and futures.
This content is provided for informational purposes only, and should not be construed as legal, tax, investment, financial, or other advice. Nothing contained herein constitutes a solicitation, recommendation, endorsement, or offer by GTS Digital, Wyden, Ideal or any third party service provider to buy or sell any securities or other financial instruments. GTS Digital is not a broker or dealer under the Securities Exchange Act of 1934, nor are any transactions proposed or described herein purported or intended to be conducted through a regulated commodity trading entity under the Commodity Exchange Act of 1936.